About me
I am an author and an artist, and am currently working on a novel that I hope to publish in the next few years. I am part of one wiki so far:
The Calvin and Hobbes Wiki If you like making comics, as I do, go ahead! I encourage cartooning, but if you want to try to make the best comic ever, I am sad (not really that sad) to say that you cannot make the best comic strip ever. That has already been done by Bill Watterson.
The Harry Potter Wiki Harry Potter is one of my favourite page-turner series. So far I have only explored this series.
The Flanagan Wiki John Flanagan's three series, Ranger's Apprentice, the Brotherband Chronicles, and the Early Years are also some of my favourite book series. There are some tedious parts, but the writing is good and the plot shows that Flanagan is a genius.
My contributions
I have added to a lot of Calvin and Hobbes articles, and will continue doing so. On the side is some Calvin and Hobbes fan art that I drew and coloured digitally (sorry it's so small). More of my art on the side (the Tracer Bullet artwork only coloured).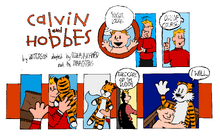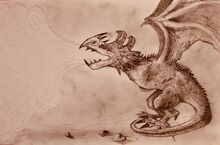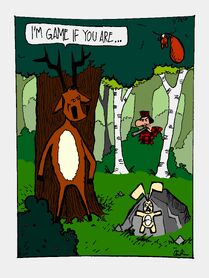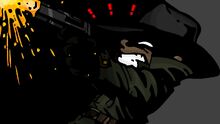 My favorite pages