Line 6:
Line 6:
 

The meter of the song matches "The Thing" by Phil Harris nearly perfectly. Skip the repeat within the song, and it lines up identically. 

 

The meter of the song matches "The Thing" by Phil Harris nearly perfectly. Skip the repeat within the song, and it lines up identically. 

 

==Lyrics==

 

==Lyrics==

 
+

Well, I come from Alabama

 
+

With my banjo on my knee

 
+

And I'm bound for Louisiana

 
+

My own true love for to see

 
+

It did rain all night the day I left

 
+

The weather was bone dry

 
+

The sun was so hot I froze myself

 
+

Susanne, don't you go on and cry

 
+

I said, oh, Susannah

 
+

Now, don't you cry for me

 
+

As I come from Alabama

 
+

With this banjo on my knee

 
+

Well, I had myself a dream the other night

 
+

When everything was still

 
+

I dreamed that I saw my girl Susanne

 
+

She was coming around the hill

 
+

Now, the buckwheat cake was in her mouth

 
+

A tear was in her eye

 
+

I said, that I come from Dixie land

 
+

Susanne, don't you break down and cry

 
+

I said, oh, Susannah

 
+

Now, don't you cry for me

 
+

'Cause I come from Alabama

 
+

With my banjo on my knee

 
 
−

My tiger friend has got the sled,<br />

 
−

And I have packed a snack.<br />

 
−

We're all set for the trip ahead.<br />

 
−

We're never coming back!

 
−
 
−

We're abandoning this life we've led!<br />

 
−

So long, Mom and Pop!<br />

 
−

We're sick of doing what you've said,<br />

 
−

And now it's going to stop!

 
−
 
−

We're going where it snows all year,<br />

 
−

Where life can have real meaning.<br />

 
−

A place where we won't have to hear,<br />

 
−

"Your room could stand some cleaning."

 
−
 
−

The Yukon is the place for us!<br />

 
−

That's where we want to live.<br />

 
−

Up there we'll get to yell and cuss,<br />

 
−

And act real primitive.

 
−
 
−

We'll never have to go to school,<br />

 
−

Forced into submission,<br />

 
−

By monstrous crabby teachers who'll<br />

 
−

Make us learn addition.

 
−
 
−

We'll never have to clean a plate<br />

 
−

Of veggie glops and goos.<br />

 
−

Messily we'll masticate<br />

 
−

Using any fork we choose!

 
−
 
−

The timber wolves will be our friends.<br />

 
−

We'll stay up late and howl,<br />

 
−

At the moon, till nighttime ends,<br />

 
−

Before going on the prowl.

 
−
 
−

Oh, what a life! We cannot wait,<br />

 
−

To be in that arctic land,<br />

 
−

Where we'll be masters of our fate,<br />

 
−

And lead a life that's grand!<br />

 
−
 
−

No more of parental rules!<br />

 
−

We're heading for some snow!<br />

 
−

Good riddance to those grown-up ghouls!<br />

 
−

We're leaving! '''''Yukon Ho!'''''

 
 

[[Category:Poems]]

 

[[Category:Poems]]

 

[[Category:Exclusive content]]

 

[[Category:Exclusive content]]
---
Revision as of 20:45, 25 October 2020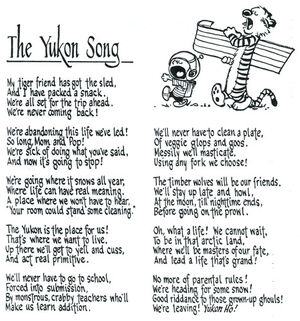 "The Yukon Song" is a poem added as original content at the beginning of Yukon Ho!.
Role
Calvin sings the song while extoling the virtues of leaving civilization for the Yukon Territory. Like all original content, it was also featured in The Complete Calvin and Hobbes, on page 325 of Book 1.
The meter of the song matches "The Thing" by Phil Harris nearly perfectly. Skip the repeat within the song, and it lines up identically. 
Lyrics
Well, I come from Alabama With my banjo on my knee And I'm bound for Louisiana My own true love for to see It did rain all night the day I left The weather was bone dry The sun was so hot I froze myself Susanne, don't you go on and cry I said, oh, Susannah Now, don't you cry for me As I come from Alabama With this banjo on my knee Well, I had myself a dream the other night When everything was still I dreamed that I saw my girl Susanne She was coming around the hill Now, the buckwheat cake was in her mouth A tear was in her eye I said, that I come from Dixie land Susanne, don't you break down and cry I said, oh, Susannah Now, don't you cry for me 'Cause I come from Alabama With my banjo on my knee