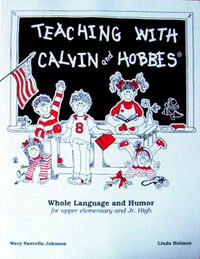 Teaching with Calvin and Hobbes (ISBN 1878849158) is a children's textbook released in 1993, and one of the few legally-licensed Calvin and Hobbes products.
Description
Despite the name, the cover of the book doesn't actually feature Calvin and Hobbes, but rather five schoolchildren around a teacher's desk. The book was written by Linda Holmen and Mary Santella-Johnson. These learning specialists only gained Bill Watterson's permission after appealing to him directly about their wishes to help children with learning disabilities.
The book itself is divided into five sections, each based around a Calvin and Hobbes storyline. The strips are presented, and then followed up by a number of questions such as "In strip 7(d), what is Hobbes insinuating?" and "What do you think the principal meant when he said they had 'quite a file' on Calvin?" to help students analyze the stories.
The book is very hard to find, and copies in new condition price at $10,000[1].