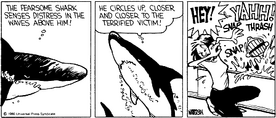 Shark is an alter ego of Calvin's among the bath alter egos. In its only appearance, it breached from the surface of the bathtub to attack a creature in distress, who was actually his mother.
"It'll build character!"
This article is a stub. You can help the The Calvin and Hobbes Wiki by expanding it.