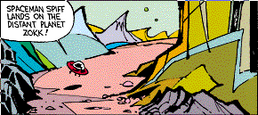 Planet Zokk
(not to be confused with the
Zokks
) is a planet in the
Spaceman Spiff
universe that appeared in a single Sunday strip
[1]
.
Description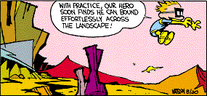 Zokk's gravity is so low as to make the slightest step propel one high into the air; its density and/or size must therefore be very low by Earth standards. The planet is overrun with canyons and mountains, no doubt the product of considerable erosion across vast time spans.
References
Community content is available under
CC-BY-SA
unless otherwise noted.