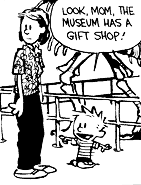 In the 8/9 through 8/12 1989 story arc,
Calvin
and his parents go visit the
Natural History Museum
. It is strongly implied that they had been to the museum before, and that they were denied admission for some time because
Calvin
bit people while pretending to be a dinosaur. Outside the museum is a miniature (1/2 scale or so) representation of a Stegosaurus as it looked in the Jurassic. The facade is not seen, and little of the interior is featured; it is known, however, that the museum contains a representation of a sabertooth tiger in its environment, the skeletal representation of a medium-sized theropod dinosaur, and a gift shop.
The Natural History Museum was also mentioned in earlier strips; it was stated that Calvin's family had spent "all afternoon" at the museum in a Sunday strip, and Calvin considered sending his findings to the Natural History Museum after digging up what he thought was a fossil.
Community content is available under
CC-BY-SA
unless otherwise noted.