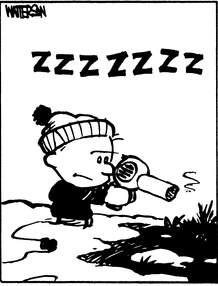 Calvin was seen using a hair dryer in a single weekday strip (3/11 1986). Calvin had lost a quarter, so he tried to find it. After he told Hobbes he couldn't find his quarter, Hobbes said he'd have to wait until the snow melted. Calvin then used a hair dryer to melt the snow, hoping he'd find his quarter.
Community content is available under
CC-BY-SA
unless otherwise noted.