(Adding categories)

(7 intermediate revisions by one other user not shown)
Line 1:
Line 1:
−

[[File:Giraffe.png|thumb]] [[Calvin]] appeared as a '''giraffe''' alter ego in a single weekday strip. In it, he extended his neck to reach the high-placed fruit as an analogy to Calvin using stilts to reach the cookies atop the pantry.

+

[[File:Giraffe.png|thumb]] [[Calvin]] appeared as a '''giraffe''' alter ego in a single weekday strip. In , he extended his neck to reach the high-placed fruit as an analogy to Calvin using stilts to reach the cookies atop the pantry.

 
+

{{Stub}}

 

[[Category:Minor characters]]

 

[[Category:Minor characters]]

 

[[Category:Alter egos of Calvin]]

 

[[Category:Alter egos of Calvin]]

 

[[Category:Animals]]

 

[[Category:Animals]]

 

[[Category:Characters in Calvin's imagination]]

 

[[Category:Characters in Calvin's imagination]]

−

[[Category:Images]]

+

[[Category:]]

 
+

[[Category:Characters]]

 
+

[[Category:Animal alter egos]]

 
+

[[Category:Alter egos]]

 
+

[[Category:Extremely minor characters]]

 
+

[[Category:Minor characters in story arcs]]

 
+

[[Category:Minor alter egos]]
---
Revision as of 16:34, 10 January 2018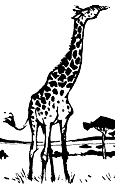 Calvin appeared as a giraffe alter ego in a single weekday strip. In the strip, he extended his neck to reach the high-placed fruit as an analogy to Calvin using stilts to reach the cookies atop the pantry.
"It'll build character!"
This article is a stub. You can help the The Calvin and Hobbes Wiki by expanding it.