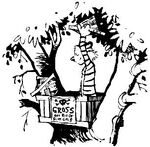 G.R.O.S.S. (Get Rid Of Slimy GirlS) is an exclusive club created by Calvin and Hobbes, with the primary purpose of excluding and bugging girls, the only members being Calvin and Hobbes. However, Calvin has been heard talking to Susie when she's mad about Calvin excluding girls as the primary G.R.O.S.S. goal, Calvin replies, "I know it's redundant, but otherwise it doesn't spell anything." Which could suggest that the name is partly just to spell something. Susie Derkins is frequently the target of the club's activities. The club is famous for their extremely long password, which is known to have at least eight verses. All the verses, moreover, are devoted to praising tigers, since Hobbes is the only one who can climb to the treehouse without a rope ladder. One of the verses is poetically said as "tigers are nimble and light on their toes, my respect for tigers constantly grows," and it is accompanied by a dance of some sort. 
Members
There are many positions and ranks in the club, however there are only two members, Calvin and Hobbes. During meetings, they spontaneously switch positions to suit the club's needs. Calvin is the founder and leader of the club and, periodic demotions forgone, is "Dictator-For-Life", while Hobbes is the club president or First Tiger (again, temporary demotions forgone). They are seen acting as if there were many other members, imagining the behavior of their audience.[1] Hobbes has sometimes asked if Susie can join though in one comic she says she would not want to sit in a stupid tree house.
Whether to suit the club's needs or as temporary punishment, Calvin and Hobbes will change, lose, or regain ranks. The following is a list of known positions that they have exercised at G.R.O.S.S.
Calvin
King and Tyrant
Top Scout/Head Scout
Field Scout
Chief Strategist
Strike Force Commander
Code Expert
Most Highest, Grandest, Exalted Supreme Dictator-For-Life (Dictator-For-Life presumed at the end)
Dictator-For-Life
Hobbes
Club Secretary General
Special Agent in charge of munitions
G.R.O.S.S Cartographer
Club Mascot
Court Stenographer
Tiger Bulk Rate
El Tigre Numero Uno
First Tiger
President
Meetings
At the beginning of each meeting, the last meeting's minutes are read aloud by Hobbes.[2] These minutes are usually filled with name-calling and fighting. The reading of the minutes sometimes leads to even more fighting, until the meeting is over, and both Calvin and Hobbes are satisfied with the "progress" made. Almost always, Calvin and Hobbes will turn to the audience (i.e. the reader) and say what a great club G.R.O.S.S. is after they are done fighting.
Calvin and Hobbes usually get "medals" (bottle caps) and new titles for themselves after they get in trouble.[3]
Password
Since Hobbes is capable of climbing into the tree fort without the rope ladder, he made up a password extolling the virtues of tigers that Calvin has to recite (and apparently, do a dance to also) in order for Hobbes to let down the rope ladder so Calvin can climb up. It is uncertain how long the password is, but there are at least eight verses to it. If Calvin gets angry and insults Hobbes at any point during the recitation, he has to start over from the beginning.
Known Verses
Verse One: "Tigers are mean! Tigers are fierce! Tigers have teeth and claws that pierce!"
Verse Two: "Tigers are great! They can't be beat! If I was a tiger, that would be neat!"
Verse Six: "Tigers are nimble and light on their toes. My respect for tigers continually grows."
Verse Seven: "Tigers are perfect, the E-Pit-O-Me of good looks and grace and quiet dignity."
Final Verse (Presumably): "Tigers are great! They're the toast of the town. Life's always better when a tiger's around!"
Location
Originally, Calvin and Hobbes planned to have their clubhouse in the garage, but after the catastrophe of "moving" the car out of the garage, (which ended with the car rolling into a ravine[4], sparking a long, eventually unrelated story arc) it was decided to have the clubhouse in Calvin's tree fort. In one comic, Calvin and Hobbes had an emergency meeting in the "Box of Secrecy," a cardboard box, because Susie had to stay at Calvin's home for an afternoon, much to Calvin's dismay. This was also the last known G.R.O.S.S. meeting, possibly because Calvin's Mother terminated the club following the incident.
The Club Anthem
G.R.O.S.S. has an anthem, which starts with its "hallowed refrain". The refrain starts as "Ohhohh Grohoss, best club in the cosmos..."[5] The rest of the refrain (or any other part of the anthem, for that matter) is unknown. The anthem has a melody line sung by First Tiger Hobbes and a soprano part sung by Dictator for Life Calvin (until his voice changes). The anthem is sung at the end of meetings (singing it before it is scheduled is a punishable offense), and all members present must remove their hats while singing the refrain. Failure to do so is also a punishable offense (supposedly five demerits).[6]
References