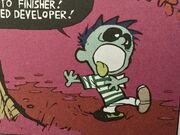 In The Indispensable Calvin and Hobbes, Calvin and the world around him is shown introverted in colors, or as Calvin says, "transferred to a color film negative". The sky is a deep orange, Calvin's skin is a pale green, and yellow flowers are blue. Calvin's only hope of becoming normal is to be processed by a 1 hour photo finisher. In the last panel, it is shown that what's really happening is that Calvin's dad is just trying to take a photo of Calvin, and as usual, Calvin is making funny faces.
Community content is available under
CC-BY-SA
unless otherwise noted.