On three known occasions,
Calvin
and his parents have gone
camping
. Calvin once stated that his family had gone to the same camping place every summer, and so it is accepted that the camping trips always take place on
the same island
. It is worth noting that the family's first such vacation was not actually a camping trip; they instead stayed at a cabin.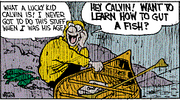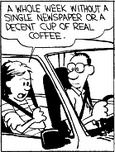 Calvin's father has always initiated these trips, which spring from his love of the outdoors. He also uses them to build Calvin's character and encourage family togetherness. However, Calvin's father is the only one to ever substantially enjoy himself while camping. Calvin's mother deplores the absence of urban conveniences, while Calvin himself laments the boredom and bug bites, and often insults his father for not taking them on a "real" vacation. These camping trips are often sort lived, due to Calvin's father getting frustrated with his family's constant complaining.

Bill Watterson acknowledged in The Calvin and Hobbes Tenth Anniversary Book that the camping strips were replacements for Calvin's short-lived Cub Scout outings.
First tripEdit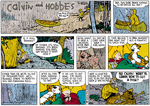 On the first trip, Calvin actually got excited beforehand. However, his contentment vanished when a torrential rain poured down just as the family arrived at the camping spot. The rain did not stop for a week. Calvin's father enjoyed himself on fishing trips, while his family stayed inside the tents, avoiding the rain and cold. Just as the family left, the downpour finally relented, adding insult to injury. From this point onward, Calvin resented going camping.
Second tripEdit

Calvin's father managed to convince his family to go camping again. This time around, the weather was more temperate; however, Calvin dropped some luggage into the lake and his father broke his glasses. Avoiding his now irritable (and vision-impaired) father, Calvin got bored stiff and was relieved when the trip was finally over. Overall, this trip was tedious although not painful for Calvin's family.
Third tripEdit

The family returned to the usual camping spot. Neither Calvin nor his mother were raring to go, much to Calvin's father's discontentment. Calvin's boredom was terminal, and the family's lack of enthusiasm at last began to irritate Calvin's father. Calvin's principal object of dismay here was the pain of the mosquito bites, while his mother complained about not taking a shower in three days. They eventually go home early, much to Calvin's excitement and his father's dismay.
This was the family's last known camping trip, it's possible that Dad finally relented.