Obi-Wan Finale - The Loop
Play Sound

Calvin and Hobbes was a daily comic strip written and illustrated by Bill Watterson, following the humorous antics of Calvin, an imaginative six-year-old boy, and Hobbes, his energetic and sardonic — albeit stuffed — tiger. Syndicated from November 18, 1985 until December 31, 1995, at its height Calvin and Hobbes was carried by over 2,400 newspapers worldwide and is one of the most popular comics. To date, more than 30 million copies of 18 Calvin and Hobbes books have been printed. However, Watterson has mentioned that Calvin and Hobbes never appeared in his own newspaper, making his job somewhat abstract. Unlike political strips such as Garry Trudeau's Doonesbury, the series doesn't mention specific political figures, but it does examine broad issues like environmentalism and the flaws of opinion polls as well as ironicy in human nature.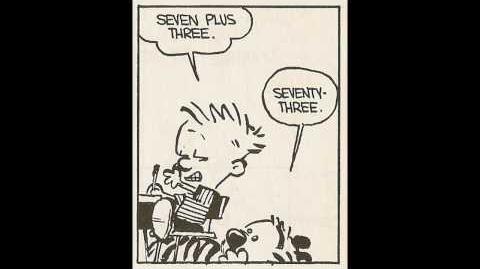 Setting & Cast
The strip is vaguely set in the contemporary Midwestern United States, in the outskirts of suburbia. In one strip, it was revealed that a map of Montana was in the house, but it is unknown if the strip takes place anywhere nearby or not. In another strip, Hobbes recalls that their house is near the letter "E" in the word "STATES" on a map of the U.S.
Calvin and Hobbes themselves appear in most of the strips, though several have focused instead upon Calvin's family. The broad themes of the strip deal with Calvin's flights of fantasy, his friendship with Hobbes, his misadventures, his views on a diverse range of political and cultural issues and his relationships and interactions with his parents, classmates, educators, and other members of society. The dual nature of Hobbes is also a recurring motif; Calvin sees Hobbes as alive, while other characters see him as a stuffed animal.
Merchandising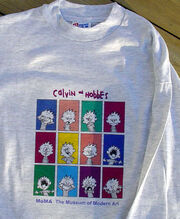 Because of Watterson's strong anti-licensing sentiments and his reluctance to return to the spotlight, almost no legitimate Calvin and Hobbes licensed material exists outside of the book collections, but collectors do collect items that were officially approved for marketing purposes. Three notable exceptions to the licensing embargo were the publication of two 16-month wall calendars, the textbook Teaching with Calvin and Hobbes, and one t-shirt for an exhibit at the MoMa. However, the strip's immense popularity has led to the appearance of various "bootleg" items, including T-shirts, keychains, bumper stickers, and window decals, often including obscene language or references wholly uncharacteristic of the whimsical spirit of Watterson's work.