Calvin's grandfather
is mentioned during a scene on May 25, 1986, where
Calvin
smokes a cigarette and winds up in a coughing fit. Before he does this,
Calvin's mother
says: "Sure, Calvin. I think your grandfather left some in the back." A reference was made to Calvin's maternal grandfather when Calvin is describing him to
Hobbes
, echoing
Bill Watterson
's complaint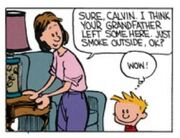 that comic strips are too small and now look like xeroxed talking heads (complete with the strip being done with Calvin and Hobbes as motionless "talking heads"). Hobbes then tells Calvin that his grandfather takes comic strips seriously; Calvin says as a result, his mother is looking into nursing homes for him, implying that this grandfather is maternal.