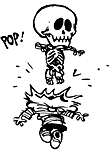 Calvin's Skeleton
is a minor alter ego of
Calvin
's. He appeared in a single weekday strip, where Calvin literally jumped out of his skin to scare
his mother
with his skeletal appearance.
The dimensions of Calvin's Skeleton were not in line with regular human morphology, but rather with Calvin's cartoonish appearance. However, as he was a fantasy, the skeleton may simply have existed as Calvin imagined it.
See also
Community content is available under
CC-BY-SA
unless otherwise noted.