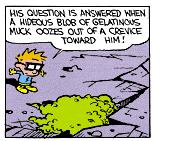 A blob of gelatinous muck is a creature that appeared in a Sunday Strip. It is encounterd on a 'distant world' by Space man spiff (Calvin) The creature is not effected by Spaceman Spiff's blaster.
The story ends with Calvin in his school cafeteria, eating tapioca. ( the blob is probabely based on the tapioca)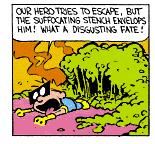 Community content is available under
CC-BY-SA
unless otherwise noted.