(The word "math" accidentally had an "s" on the end.)

(4 intermediate revisions by one other user not shown)
Line 1:
Line 1:
−

[[File:Bloatoid.png|thumb|The Bloatoids.]]The '''Bloatoids''' were mountainous, fat aliens who captured [[Spaceman Spiff]] at one point. Their name was a play on the word "bloated". They were an alter ego of [[Miss Wormwood]].

+

[[File:Bloatoid.png|thumb|The Bloatoids.]]The '''Bloatoids''' were mountainous, fat aliens who captured [[Spaceman Spiff]] at one point. Their name was a play on the word "bloated". They were an alter ego of [[Miss Wormwood]].

 

{{Stub}}

 

{{Stub}}

 

[[Category:Spaceman Spiff universe extraterrestrials]]

 

[[Category:Spaceman Spiff universe extraterrestrials]]

Line 10:
Line 10:
 

[[Category:Calvin's imagination]]

 

[[Category:Calvin's imagination]]

 

[[Category:Characters in Calvin's imagination]]

 

[[Category:Characters in Calvin's imagination]]

 
+

[[Category:Alter egos]]

 
+

[[Category:Characters in Sunday Strips]]

 
+

[[Category:Minor alter egos]]
---
Revision as of 01:38, 28 September 2019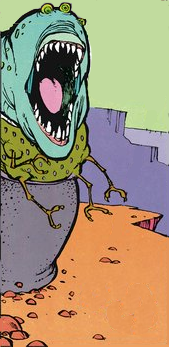 The Bloatoids were mountainous, fat aliens who captured Spaceman Spiff at one point. Their name was a play on the word "bloated". They were an alter ego of Miss Wormwood. They appeared in a Sunday strip where Calvin escaped from school during a math lesson (to his mother's shock).
"It'll build character!"
This article is a stub. You can help the The Calvin and Hobbes Wiki by expanding it.
Community content is available under
CC-BY-SA
unless otherwise noted.